Product details
Material : Natural Ox Horn

Brand : Tan Mujiang Sg

Size : 11cm x 5cm
---
WHAT IS GUA SHA?
Gua Sha is a treatment in which the skin is scraped to produce light bruising with a smooth edge made of water buffalo horn. It is delivered, in an orderly fashion, on specific parts of the body, resulting in large area of bruising or petechial hemorrhages, to regulate body function and restore homeostasis.
HOW IS GUA-SHA DELIVERED?
Apply lubricants such as olive oil or scrapping cream on body surface, and apply pressured strokes repeatedly until localized red dots or mild purplish patches appear.
WHAT WILL YOU FEEL DURING GUA SHA?
Gua Sha dilates pores, expelling pathogenic factors. Thus, after treatment, patient often experiences partial or complete relaxation, comfort, chest and abdominal expansion, and disappearance of symptoms.
If you experience lightheadedness, pallor, palpitation, cold sweat, cold hands and feet, nausea, or vomiting, please inform your physician or therapist immediately.
What should you do after Gua Sha?
The treatment of Gua Sha consumes body's fluids and heat. Drink moderate amount of water, and rest for at least an hour. Avoid cold shower for 2 hours following completion of therapy, to prevent wind from entering the body through dilated pores.
WHO SHOULD BE CAUTIOUS ABOUT RECEIVING GUA SHA TREATMENT?
People with tendency of abnormal bleeding, critical illness, fracture, contagious skin diseases, debility, empty stomach, elderly, menstruating and pregnant women, and those who are apprehensive or allergic to Gua Sha, please consult your physician or therapist before receiving Gua Sha treatment.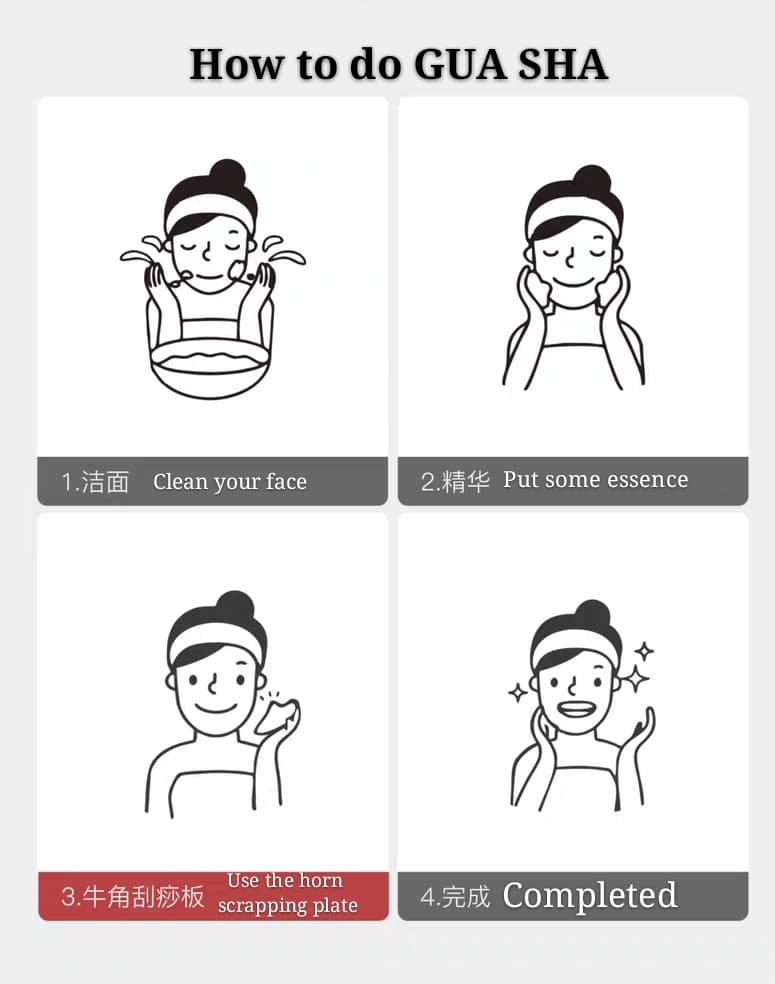 For shipping, please refer here.