Product details of Tan's Natural Comb
High-quality horn, maintain the natural color of the product

Crafted with traditional handcrafts, well polished, smooth and seamless

With smooth texture and anti-static design, will not hurt the scalp

Daily massage with wooden comb will improve hair texture

Help achieve healthy hair

Classic design

Easily to bring everywhere

Nice gift for someone
---
Material: Ox Horn
Comb's Size: 16cm x 4cm
Product description
100% handmade of high quality natural sheep horn which is good for health.The rich keratin of the horn produces a smooth comb that glides effortlessly without static, preventing unruly hair and distributing natural oils for richer, shinier hair. Able to protect hair quality if used for a long time, they are ideal combs and gifts, especially suitable for maple women and elderly people.According to the record of Chinese​ ​Materia​ ​Medica, it is "bitter , salty and cold, and has heat-clearing and detoxifying effect"
---
Maintenance:
Regular play can make the surface of the combs more lustrous. Take care not to drop them to avoid destroying their lacquer surface. Strong light and intense heat will make the wood and lacquer surface stretch. Due to the different expansion coefficients, the stretch may cause fine cracks on the lacquer surface and damage the appearance of the combs.
Cleaning:
Do not put the combs in warm water while cleaning yourself up.Be careful to avoid soaking them in water for a long time to prevent the pigment from separating out. Brush the combs gently with a soft brush while cleaning them and dry them promptly with a towel after cleaning.
---
Tan's Characteristics:
The product is made of natural material with refined traditional craftsmanship. It feels rather comfortable as a result of smooth teeth. With no static electricity generated, the comb could protect your hair and refresh your mind.
Benefits of combing:
According to traditional Chinese iatrology, to comb your hair with a proper comb will stimulite the sweater gland and hair follicle for a better blood circulation to accelerate the growth of the hair. The benefits of combing frequently appear in those far-back literatures.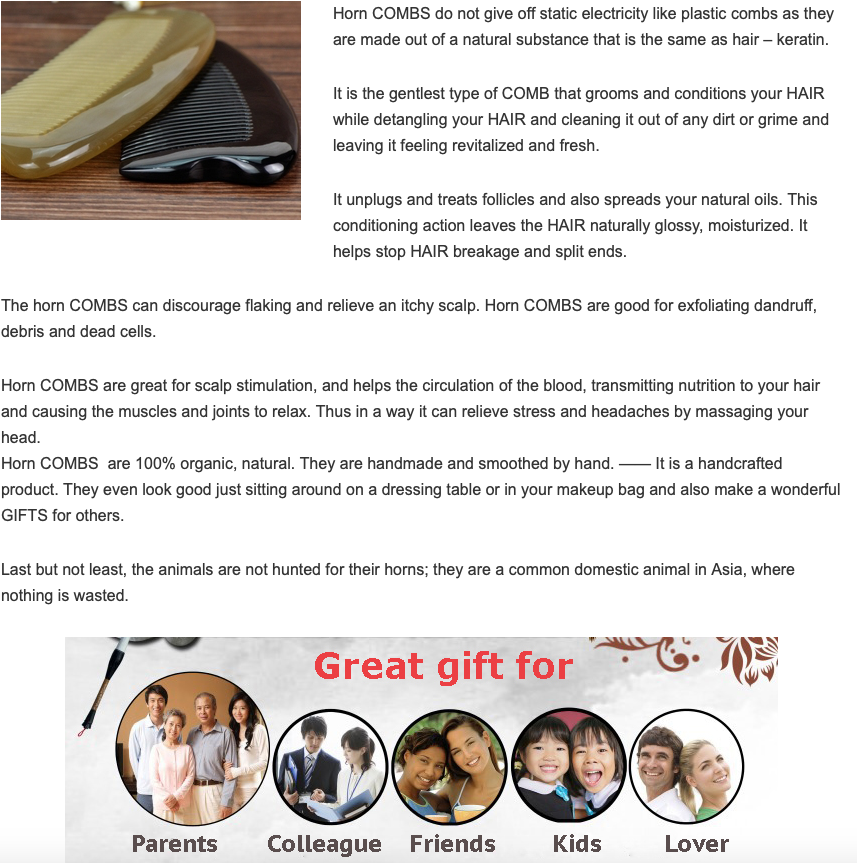 !! Note !!
Avoid pull or throw them hard,knocking them against hard objects, rub or scratch them.
Due to the light and monitors effect, colors may have lightly difference.
Please allow 2-3cm errors due to manual measurement.
No Return, Refund and Exchange.
For shipping, please refer here.